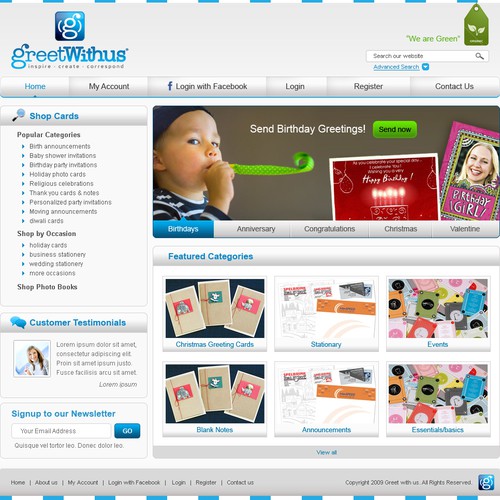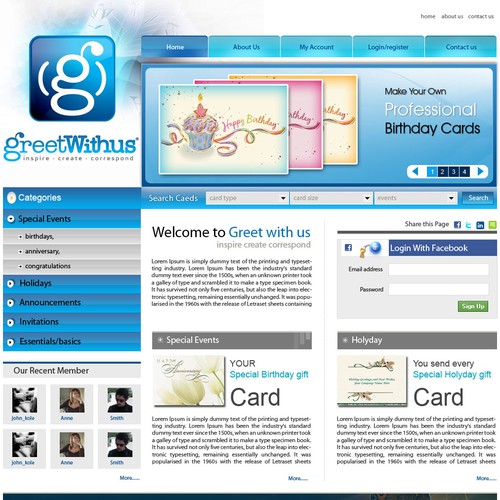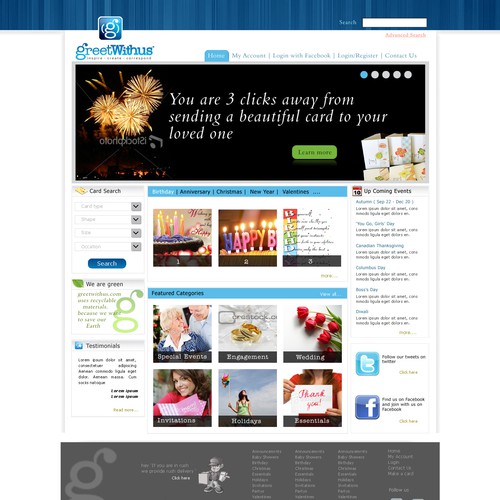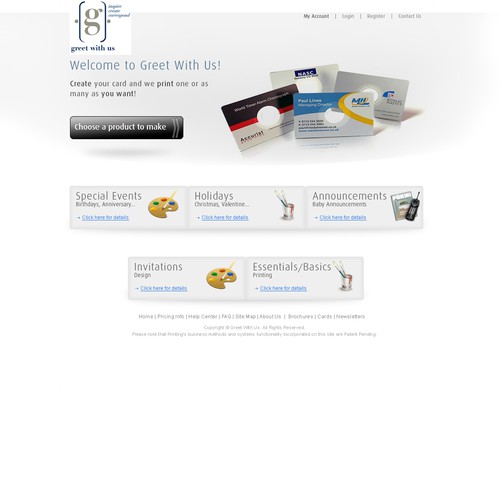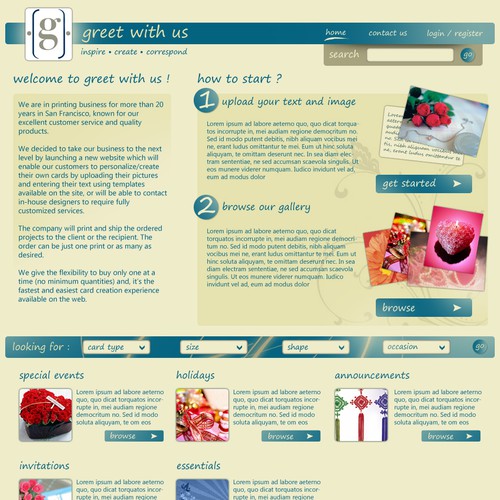 How greetwithus started their web page design journey
Overview
We are in printing business for more than 20 years in San Francisco, known for our excellent customer service and quality products. We decided to take our business to the next level by launching a new website which will enable our customers to personalize/create their own cards by uploading their pictures and entering their text using templates available on the site, or will be able to contact in-house designers to require fully customized services. The company will print and ship the ordered projects to the client or the recipient. The order can be just one print or as many as desired.
Greet With Us is a fresh and easy-to-use brand that makes life enjoyable by delivering personalized premium greeting cards for every holiday/occasion/special event with excellent customer service, consistently high quality products, and easy-to-use advanced technology, at a premium price.
Our message should be our differentiation from our competitors. We give the flexibility to buy only one at a time (no minimum quantities) and, it's the fastest and easiest card creation experience available on the web. Greet With Us is premium yet green. We have to differentiate Greet With Us from competition on the basis of Quality, make quality distinction VERY clear to establish uniqueness/originality. We use only environmentally friendly paper.
Tell us a bit about who you are and the people you reach
The target market for this high-end company will be the younger generation with ages ranging from 20 to 50 years, but more specifically between 25 and 45. The customers of Greet With Us will also likely be internet savvy and working individuals living in metropolitan areas. They will likely be upper middle class who use social media networks such as Facebook and Twitter. Traditionally, 90% of greeting card buyers have been female, but there is a growing male market due to the increasing popularity of using personal digital photos in custom cards. Greet With Us hopes to capitalize on this male market and the younger, more hip generation with its focus on high quality, high customization, and being "green". People pressed for time who demand instant results are also our target market. For example, when mother's day is coming up in two day, there is no time to go to a shop to buy a card and send it, Greet with us will be a good alternative.
Requirements
We are looking for a very creative designer who understands the web 2.0 concept. Create a clean looking homepage and interior pages with a web 2.0 feel to it. Interior pages can be done once you win!
Please present what you think is the best homepage for a company doing what we do. We realized that we limited your creativity with our suggestion.
Here is why we think customers should choose us:
1) We are green
2) You don't need to register
3) We have an easy to use website, you are 3 clicks away from sending a beautiful card to your loved one
4) We don't have minimum quantity requirement for printing. Order one or as many as you want and we will print and mail it to you or to your recipient directly
5) If you are in rush, we provide rush delivery
6) We are in printing business for 20 years
We will look at two thing when decide on the winner, creativity and looks of the design, functionality and usability of the layout. Design should be in line with our brand identity. A sleek look, but with a subtle cuteness that shows that clients can create beautiful cards with us. Layout is very important for us because our promise to our clients is a web 2.0 website, a user centered design. Please give first priority to occasions, secondly to featured products, and last to corporate identity in page layout. Use the homepage real estate wisely.
Our award is for three pages: the homepage, product page and check out page. But if you win, we would like to have a proposal for you to work with us for year while we are striving to perfect our business.
Free features
Open contest

Guaranteed

Fast-tracked
We've found some similar contests you might like