In case you're new around here, here's what's going on: once a month we hold a competition called "The Top 9 at 99" where we pick 9 of the best winning designs submitted to 99designs in a month and have our community vote on which one is their favorite. That person wins a prize and all of the runners-up get some sweet swag as well. On top of that, each year we like to collect all of the Top 9 winners and vote on which of them we think is the best of all.
This past year, Sava Stoic won the Top 9 prize for December, but he's also risen to the top of this year's tough competition as the winner of The Ultimate Top 9 at 99! We're thrilled to take you inside the mind and design process of one of 99designs shining stars: Sava Stoic.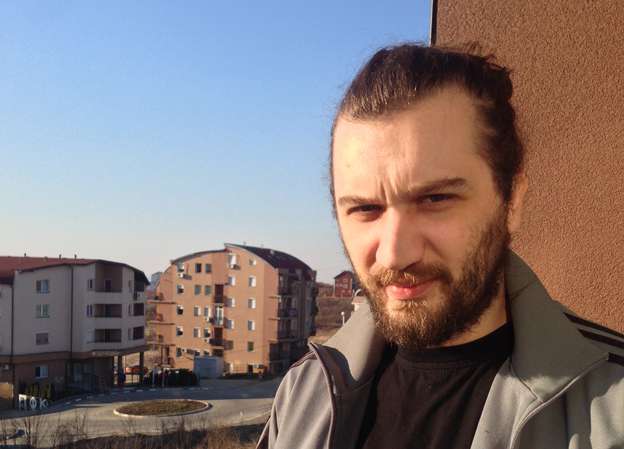 Name: Sava Stojsavljevic
Location: Serbia
99designs handle: Sava Stoic
Can you start out by giving us a little bit of background on you? Where you're from, what you do, etc?
I am from Serbia, and I live in Belgrade. I've finished the Academy of Fine Arts in Kosovska-Mitrovica, and my vocation is a painter. That is my main occupation. But design, specifically logo design, is my second occupation and I am equally passionate about it.
Wow! What kind of stuff do you like to paint? Do you have any pieces online that we could see?
Yes I have, but not too many. I sold everything that's really good, and as for the bad — I don't want to show you 🙂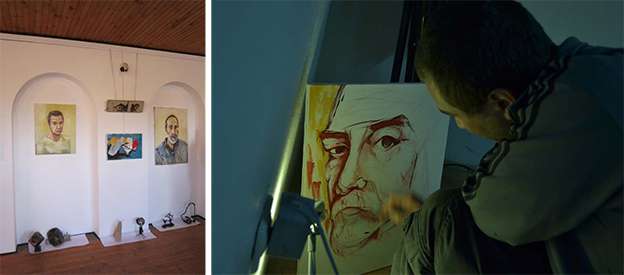 Sava's paintings on display at a gallery (left), and the artist at work (right)
We'll have to commission you to do a portrait of the community team, haha. Do you think your training as a painter affects your work as a logo designer?
Yes! At the Academy I learned to draw, about Realism and Classic painting on canvas, and Renaissance painting. And of course, that helped me from the start. But as for how to make logos, I really learned that at 99designs.
How did you find out about the site, and get started in graphic design here?
At my school we have a department for Graphic Design, so I heard about it from my colleagues there. At first, I was working at some other sites, because at 99designs has some tough competition for beginners. And it was still hard when I started, I struggled a lot and learned through a lot of work.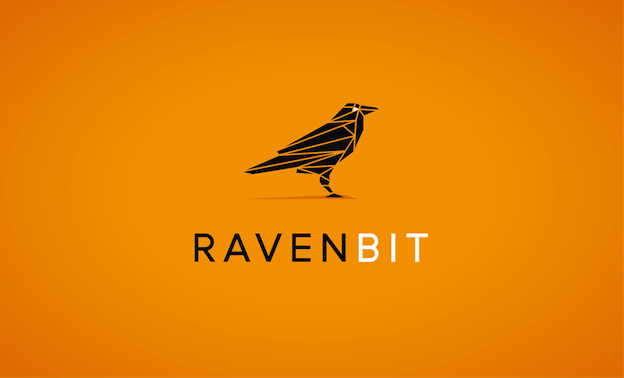 But now you're doing awesome! Can you tell me a little bit about your creative process — how do you come up with and then execute a great logo design?
It's very important to find great a contest. Then for me, ideas just come. I have to say that competition at the contest is very important, as it forces you to do your best work! For inspiration, I use the internet — I find examples of other great logos, paintings, I listen to music.
So now a two-part question: 1. Do you have any specific influences, other graphic designers or artists that you really love? and 2. What kind of music inspires you? Do you have a playlist that you use when designing?
I'm influenced by all Top Level designers: Ludibes, Ricky Asamanis, smiDESIGN, Yeah23. And the one and only Yuri Gal! My music selection is Thievery Corporation, Darko Rundek, Bob Marley, Darkwood Dub…
You have a quote by Steve Jobs on your profile. Is he someone you would consider an inspiration?
I like the philosophy that graphic design's purpose is to make things simpler and more beautiful. When you look at a screen, you must feel like you're looking at something natural. But I'm not sure if that was Steve Jobs philosophy, haha…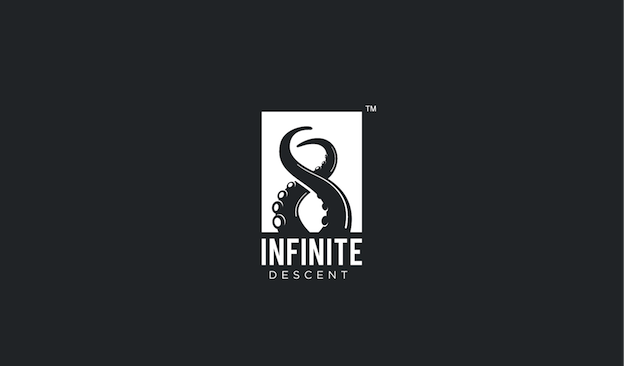 Sava Stoic's winning design for the Top 9 at 99 in December – Logo for Infinite Descent
Haha, fair enough. You do have a very simple design style, which is I think what makes a lot of people enjoy your work so much. Particularly the one that you won Top 9 with! Is there any sort of story behind that design? How did you and the client work together to come up with that final logo?
That contest was one of the best! The name of company is very creative, and client was very specific. It was easy to work with him. The main idea for the design is that octopus drags the observer into the deepness of ocean, and the symbol of infinity helps represent that descent.
Are there any designs you've worked on or relationships with clients that have really stood out during your time at 99designs?
Yes, I work with many customers in contests. Some of them become my friends, or even business partners. It's great to have that opportunity to work with people all around the world. Thank you for that.
And I have to say something about the Top 9 competition: I didn't try to convince myself that I didn't have a chance to win. There were so many strong reasons for me not to. Exactly 11, in fact. Every of those 11 works could have been the winner, and nobody would've said it wasn't deserved! The quality of works is amazing, and I think that this site has no limits. The best way to create interesting work in this business is this heathy competition which makes you always do your best.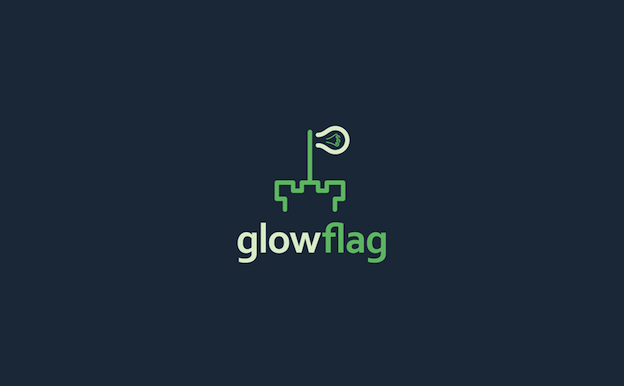 I agree! There were so many great designs last year and I think there'll be even more this year. Final question: Do you have any other tips or suggestions you can tell the designers reading this?
My advice to all colleagues, designers, and all good people is that they should follow their dreams and goals. I know it isn't always easy, but when it's difficult, you just need to work even harder to push yourself to your limits. Just be careful to stay hydrated 🙂
I am thankful to everyone who voted for me — thanks everybody! Very, very much!